NEWS
ROGER SANCHEZ Supports JACK & JOY!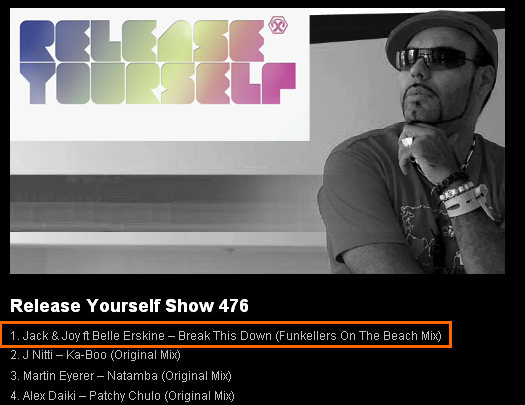 A due giorni dall'uscita ufficiale, Break This Down entra nello Show di Roger Sanchez, il "Release Yourself" con la Funkellers on the Beach Mix. Un ringraziamento di cuore a tutti i ragazzi che hanno lavorato con noi al progetto, a "The Big Man Restless" e a tutti voi che pestate i piedi sul Dancefloor.
—————–
Break This Down played by Roger Sanchez in his "Release Yourself" Show! Two days after the official release Jack & Joy ft Belle Erskine (Funkellers on the Beach Mix) becomes one of the "choosen tunes". We would like to spread our "thanks" to all the Adaptor guys who worked hard on this project, the Big Man Restless and everyone of you, out there, keep stompin' on the dancefloor around the world!
Luv, JJ
JackandJoy
December 3rd, 2010